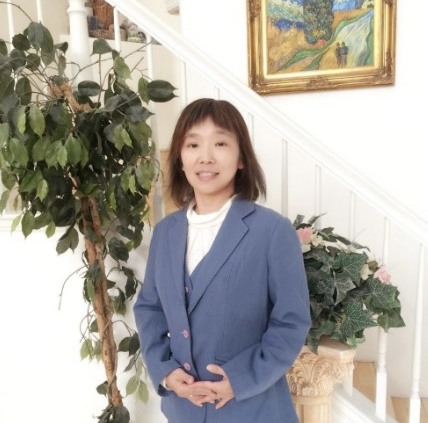 Bachelor Degree Through CLI Courses
Michelle Wang completed over 120 credits of study at Christian Leaders Institute. She has now received her bachelor degree. Here is her story.
Twenty years ago, I was an international student from Taiwan. My major was Business Information Systems. Everything in the United States was very fresh and interesting to me at that time. I felt everything was so big here and people felt happy to be Americans. After I graduated from college, soon, I got a job, got married, and had two children. Just like every Asian girl's enviable dream and joyful life to be a wife and mom; just like every Asian girl taking steps by steps; according to the life track of the traditional woman, I live an ordinary and happy life!  After I had been working for ten years, I decided to take a break. I put down my work, and eventually I became a housewife. I did several services for the church, such as being a mentor in children's Sunday school, leading a sister's fellowship Bible study class, being a chairman of community family fellowship, and an adult Sunday school teacher, etc. My work and time and life were occupied and planned in a dense and colorful schedule.
Three years ago, I participated in a course "The Life of Christ ". "The Life of Christ" is a course of Theological Extension Education (TEE) by SEAN International. SEAN received God's vision from 2 Timothy 2:2, "You then, my son, be strong in the grace that is in Christ Jesus.2 And the things you have heard me say in the presence of many witnesses entrust to reliable people who will also be qualified to teach others."
This course has a total of six books. It usually takes a year and a half to complete the study. After I received the certificate of completion, I started to lead this course in our church's adult Sunday school. As an adult Sunday school teacher, my vision from God was to lead this class and continue to teach many new students who are also interested to study about this course. When I lead this course, students often ask questions, which sometimes were very difficult questions. I felt that I don't have quite enough bible knowledge in order to answer those questions. The lack of study and education of the Bible made me feel that I need to study the Bible well enough to have the best helps and responses for those students in my class. So that was why I decide to study theology. But because I am a housewife and a mother of two children, a lot of time and energy are spent for the family and my daughters already, so I decided to find a school that can more aptly fit my situation. After many evaluations and deep meditation, I signed up for CLI, continued my studies, and continued to be a student again.

The Christian Leaders Institute (CLI). CLI is not just a school with rich curriculum, solid content, orthodox truth theology, but also provides comprehensive online teaching. At first, I just started from a basic evangelical class: Christian Basics. Later, I found out that CLI was a very valuable and supportive school. The instructors and teachers have a strong knowledge in their professional field. Many professors are theological masters. CLI provides many collections of the famous preachers' sermons, lots of practical and effective evangelical methods, as well as the handouts and note books of famous theologians and scholars. CLI is just like an inexhaustible treasure house for me to study and to use freely and fully. All the courses of CLI also supply a very hierarchical, step by step method to complete and achieve our learning process.

For example, there are Old Testament Survey and New Testament Survey, Prayer, Christian Ethics, Church History, Missions and Revivals, Christian Apologetics, Hermeneutics and Exegesis…  The curriculums are complete, comprehensive, abundant, interesting and practical. In particular, the following courses were my favorite classes which have benefited me a lot:
1.       Hermeneutics and Exegesis
They read from the Book of the Law of God, making it clear and giving the meaning so that the people could understand what was being read. (Nehemiah 8:8)
In this course, I was trained in the fundamental principle for studying a passage. I had been cultivated to use effective ways to become more skilled in comprehension biblical passages and preparing sermons. This ministry practicing course provides the primary issues to me in interpreting the Bible, especially the lessons of Professor Jeff Weima.  Dr. Weima's course taught me to interpret bible verses with attentive caution and alert to historical, theological, literary, and grammatical principles to see the Bible as God's Word using the Holy Spirit as expressed through humans. The ESV Global Study Bible (http://www.esvbible.org) is a very useful online research tool to assist correct explanation.
2.       Christian Apologetics
I believe all Christians need to study Christian Apologetics.  Each Christian needs to know how to communicate with atheists, agnostics, and people of other religions. This course helped me, to realize the limits of the witnessing of Christian apologetics, to present Christian truth unerringly, and to convince others in all different enrolments. Faith also is a real knowledge. I am taught from this course the most important key points in apologetics, so now I know how to defend and battle for my faith. Particularly, I learned from the lessons of Dr. Voddie Baucham and Dr. Ravi Zacharias, many aspects of biblical worldview, diverse cultural analysis, and introducing the gospel to face general disagreements. We can solve the typical arguments to Christian faith. Furtherly, Wondering: Christianity for Question, written by Dr. Feddes, which the believers and non-believers must read. It is simple but Wow! It is so easy to read and understand, but deeply and thoroughly replies, responds, objects, and questions about the faith of Christianity.
3.       Evangelism: Presenting Grace- ALL BY GRACE.
"I believe the most important word in the Bible is grace." Dr. Roels indicated his point in his class. He expressed, "God's grace is truly the source of every blessing we enjoy. In its simplest form, God's grace may be described as God's unmerited and undeserved favor toward us."
The parting words of Jesus to his followers were, "And you shall be my witnesses." (Acts 1:8)
This was the command that Jesus wants us to follow as His disciples. The Professor Ren Broekhuizen's class taught us how to be a successful, beneficial, sharp and potent witness to God's love and grace revealed to us in Jesus Christ. I also inspected and found out from this course: all the amazing miracles from His Spirit, through evangelism, will improve our abilities to present God's grace to others in our thought, work, and practice. We need to be prepared and be ready to serve the Lord Jesus more effectively in spreading the Gospel of Christ in our daily responsibility.
4.       Church History
Church History has been the most challenging class for me during my entire study. The challenging and difficult parts to me were extremely numerous history characters, multiple important and influential events, various causal relationships between people, projects and places, a quite long generation and categories of church history, the diverse treasured thoughts of theological masters, and different religious factions and organizations. Because of the above reasons, I had worked very hard and spent a lot of time and energy on this class to affirm that I could pass each quiz. Thanks to the merciful Lord! I was so blessed to have been able to take and complete this class. The more you spend, the more you get.    I have been significantly educated after this course and now know that Christianity has a deep influence on human civilization. God's goals and promises to his people are constantly faithful from the beginning to end of human and Christian history. Let us to follow the models and patterns of the past Christian martyrs and heroes to honor His will. Nowadays, each of Christian shall know how to prevent wrongdoings by recognizing the past false teaching and human wicked ways.  Most essentially, this course helped me to greatly gain knowledges of the main events, important characters, and primary directions in Christian church history.
Beside the required courses, the Course Forums and Student Network also gave me huge assistance. The other students' interesting comments and good questions in Course Forum often supply me generous confidence and encouragement. I also connected with other CLI students on Student Network. I was inspired by many great shared discussions of the growth of CLI students.
Finally, I profoundly hope the training and classes that I had studied from CLI can extraordinarily and remarkably impact those people I met. My next step of my ministry dream is to serve as a theologically well-educated, knowledgeable, experienced, devotional, and enlightened mentor in the field of biblical teaching. My goal is to participate and commit be a reliable leader of Bible Study class, a trustworthy teacher of adult Sunday school, a royal instructor of Theological Extension Education (TEE)… The achievements and completion of the Bachelor of Divinity Degre
https://degrees.christianleaders.org/wp-content/uploads/2019/01/Michele-Wang.jpg
436
428
Henry Reyenga
https://christianleaderscollege.com/wp-content/uploads/2023/07/CL_Institute_Logo_RGB-scaled-e1690393063326-300x115.jpg
Henry Reyenga
2019-01-16 01:25:35
2022-08-09 18:51:33
Bachelor Degree Through CLI Courses